Settle WWW Club 10s
Bolton-by-Bowland 10.3 mile time trial course (L112)

7.30 start

Alternate Wednesday evenings usually from the end of April until the end of August.

Entry on the line was the norm since these events started in 2004, but we were somewhat overwhelmed by the large field or 23 riders on 27th April 2011. We feel that we should limit our field to the 20 notified to the police. We are asking that you register on this website if you want to ride the next event. This enables us to be better prepared with a pre-printed signing on sheet, and data in our computer. It also allows us to warn you if there is a danger of the event being oversubscribed. We can accept one or two entries on the line from club members, and visitors who have ridden our event previously.
This is a club event which counts towards our championship, so members may get some preference. We are trying to arrange that nobody will turn up expecting to ride, only to find that there is no room.
---
We have been reading the official rules for the conduct of time trials, and it would appear that we have not always followed these correctly (see rule 7).

It is important to note that numbers should be placed as shown in the diagram, quite differently from the practice in running races.
---
To register a request to ride in the next event, please click here.
You will be notified by e-mail if you have registered, but the field has got too big, so that you cannot be guaranteed a ride.
This registration is not really a formal entry, and there is no shame in failing to start. It just allows us to have the correct contact information on our signing-on sheet, and speeds up the sign on at the start of the event.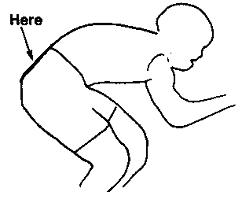 Correct location for a rider's number